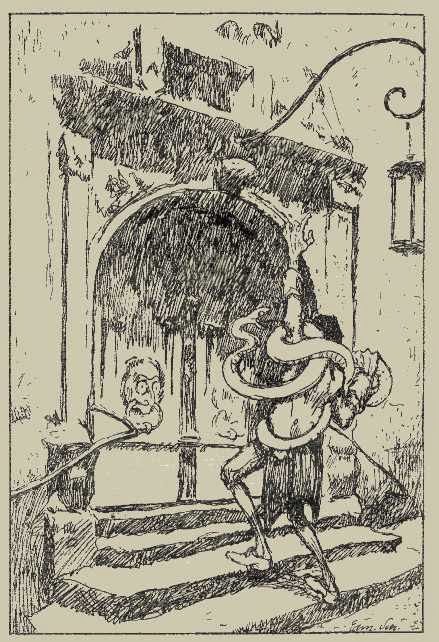 Anselmus und die Schlange (1913) by Edmund Schaefer.
[This post is partly a response to this post at Rational Faiths.]
Grant Palmer is an ex-Mormon author who is best known for his 2002 book An Insider's View of Mormon Origins. It's a popular book amongst the ex- and anti-Mormon crowd, and you'll see it frequently quoted by the same people who run to MormonThink for their information on early Mormonism.
Here's the problem, though. The book is a flop. No less than four different highly qualified experts on early Mormon history have panned Palmer's book. They include:
1. Mark Ashurst–McGee, "A One-sided View of Mormon Origins." Mark Ashurst–McGee has a PhD in history from Arizona State University and editor with the Joseph Smith Papers. (Incidentally, I will begin working with Ashurst–McGee as an academic intern at the Joseph Smith Papers beginning the end of next month.) He has published work on early Mormon history, including work that has been won awards from the Mormon History Association. (Link)
2. Steven C. Harper, "Trustworthy History?" Steven C. Harper has a PhD in history from Lehigh University and is an editor with the Joseph Smith Papers. His publications include documentary work on Joseph Smith's First Vision. (Link)
3. Davis Bitton, "The Charge of a Man with a Broken Lance (But Look
What He Doesn't Tell Us)." Davis Bitton received his PhD in French History from Princeton University and was one of the founders of the Mormon History Association. He was the co-author of volumes such as The Mormon Experience: A History of the Latter-day Saints. (Link)
4. James B. Allen, "Asked and Answered: A Response to Grant H. Palmer." James B. Allen has a PhD in history from the University of Southern California and was one of the founders of the Mormon History Association. He was Assistant Church Historian and the co-author of such works as The Story of the Latter-day Saints. (Link)
These are heavy hitters in the field of Mormon history, and not to be dismissed out of hand as Palmer's fans have heretofore done.
In addition to the overwhelmingly negative assessments of these scholars, there's also the contribution of Louis Midgley, "Prying Into Palmer." Although Midgley is a political scientist and not a historian per se, he offers important critiques of Palmer, including an extensive discussion of Palmer's misrepresentations of E. T. A. Hoffmann's 1814 novella Der goldne Topf: Ein Märchen aus der neuen Zeit. (Having read Der goldne Topf, and having read both Palmer's and Midgley's arguments, I can affirm that Midgley is correct that Palmer misrepresented the text in his strained attempt to link Joseph Smith's account of Moroni with this fantastical Märchen. If you don't believe me, check it out for yourself.)
Palmer's fans (including such luminaries as John Dehlin) have complained that Midgley's review was unfair, ad hominem, mean, nasty, invasive, and an attempt at character assassination. Actually, it's not. Here's why, as explained by Midgley himself.
I realize that some will complain that, by probing Palmer's background (or beliefs), I offer a diversion from the issues he raises and that what I have presented is an ad hominem attack. This is nonsense. Palmer and his publisher have made his CES career an issue. And his book has a history; he and his book cannot be separated. His book is the product of motivations and sources that also have a meaning and history. In addition, he makes claims about himself. Looking into such things is called intellectual history. It should be noted that Palmer strives to engage in just such a venture by attempting to set out what he thinks were the sources of Joseph Smith's story, the Book of Mormon, and so forth. If my look at Palmer's motivations and his own history of attempting to unravel the faith of the Saints is a personal attack, then the same is true of his treatment of Joseph Smith. But neither Palmer's attack on Joseph Smith nor my treatment of his attack on the Prophet should be dismissed as an ad hominem or as a personal attack. (Midgley, "Prying Into Palmer," 377–378)
So before anyone accepts Palmer uncritically, I'd strongly urge they pursue these reviews.