Anyone who is lucky (or unfortunate) enough to have stumbled upon this blog may be wondering, "Where the heck does the name of your blog come from?
The name Ploni Almoni comes from the book of Ruth in the Hebrew Bible.
No sooner had Boaz gone up to the gate and sat down there than the next-of-kin, of whom Boaz had spoken, came passing by. So Boaz said, 'Come over, friend; sit down here.' And he went over and sat down. (NRSV Ruth 4:1)
The word translated as "friend" in Hebrew is ploni almoni (פלני אלמני). The basic function of ploni almoni in Hebrew is an alias meaning "Joe Schmo," "John Doe," or "Mr. So-and-So." I chose this name because I am a random guy (a "Mr. So-and-So") sharing my thoughts. (That and I'm pretentious and like to use foreign, obscure names and words for stuff.)
So, what will be discussed on Mr. So-and-So's Latter-day Saint blog? Well, mostly Latter-day Saint stuff, as you might guess, as well as things related to my other areas of academic interest, namely, ancient Near Eastern Studies and German Studies. On this blog I discuss the Bible, ancient history, Latter-day Saint scripture and history, and current events.
About Me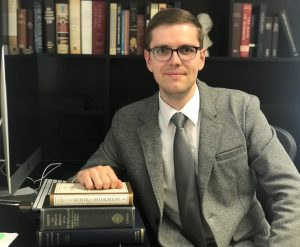 My name is Stephen Owen Smoot. I hail from Salt Lake City, Utah. I served a Latter-day Saint mission from 2009-2011 in the New Hampshire Manchester Mission. In 2015 I graduated cum laude from Brigham Young University with Bachelor of Arts degrees in Ancient Near Eastern Studies and German Studies. In 2018 I completed a Masters degree in Near and Middle Eastern Civilizations at the University of Toronto with a concentration in Egyptology. While at BYU I was a vice president of the Students of the Ancient Near East Council, a research assistant for many great professors, and a student intern at the Joseph Smith Papers Project. At the University of Toronto I was a member of the Near and Middle Eastern Civilizations Graduate Students' Association.
My favourite movies include Shaun of the Dead, Noah, Office Space, Der Untergang (The Downfall), Psycho, The Big Lebowski, The Grand Budapest Hotel, Pulp Fiction, Zootopia, and How to Train Your Dragon.
My favorite TV shows include The Simpsons, Curb Your Enthusiasm, Parks and Recreation, Breaking Bad, Better Call Saul, Archer, Dexter, Bojack Horseman, Downton Abbey, Battlestar Galactica, Arrested Development, and Futurama.
I am semi-religiously devoted to the Star Wars franchise.
My favourite video games include Donkey Kong Country 2: Diddy's Kong Quest, The Legend of Zelda: Majora's Mask, Borderlands 2, Mass Effect 2, Overwatch, Fallout 4,The Elder Scrolls V: Skyrim, Banjo-Kazooie, and Pokémon Red/Blue Version.
My favourite bands are The Killers and CHVRCHES. My favorite composer is Wolfgang Amadeus Mozart (with Franz Schubert at a close second).
My favorite painter is Caspar David Friedrich (by a long shot).
My favorite novels are Die Leiden des jungen Werthers by Johann Wolfgang von Goethe and Great Expectations by Charles Dickens.