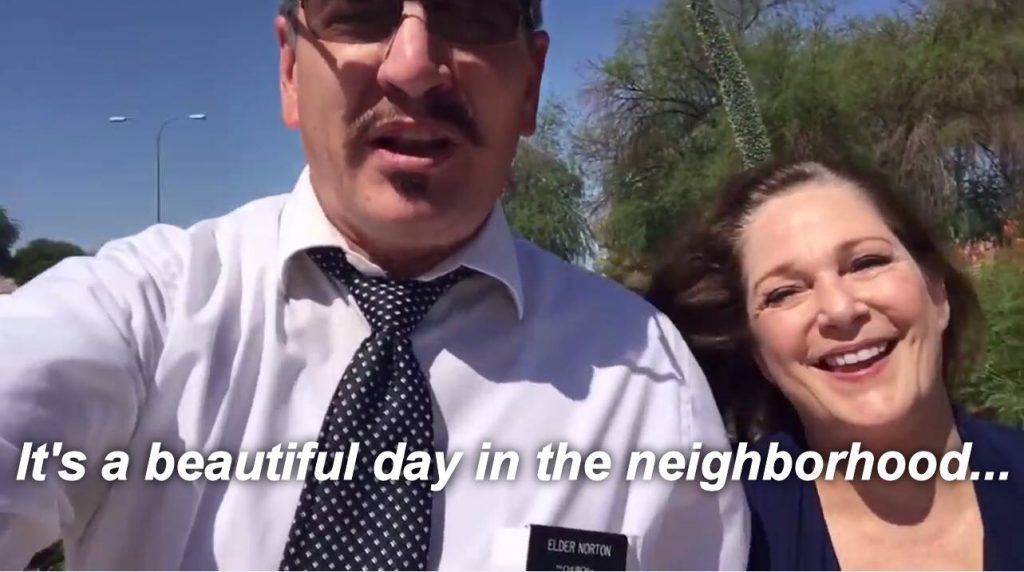 On March 19, 2018, the website MormonLeaks published an audio recording of a conversation between Joseph L. Bishop and a then-unidentified woman. Bishop was the former president of the Missionary Training Center (MTC) in Provo, Utah. The woman in the audio recording confronted Bishop with claims that he attempted to rape her while she attended the MTC in 1984. In the audio, Bishop admitted to sexual misconduct and asks for her forgiveness but also denies (or rather says he cannot remember) any attempt to rape her.
The allegation was, naturally, explosive. The story was picked up by mainstream media. Social media went ablaze. Bloggers took to writing think pieces about sexual abuse within the Church with the starting point of taking the MormonLeaks revelation at face value. Sizzling hot takes were fired into orbit on Twitter by blue checkmark pundits as part of the larger #MeToo movement gaining prominence at the time. Ex-Mormon redditors, predictably, heralded the woman's account as yet further proof of the perfidy and moral repugnance of leaders of The Church of Jesus Christ of Latter-day Saints.
The public outcry was so pervasive that the Church itself issued an official statement responding to the alleged incident.
It was quickly revealed that the woman in the recording was named McKenna Denson. On April 4, 2018, Denson sued Bishop and The Church of Jesus Christ of Latter-day Saints. The lawsuit attracted media attention. In the suit, Denson brought charges of "sexual assault and battery, negligent and intentional infliction of emotional distress, fraud, fraudulent nondisclosure and fraudulent concealment" against Bishop and the Church.
What was the defense offered by Bishop and the Church against these charges? Besides pointing out the expiration of the statute of limitations for the accusations, Bishop's lawyer (and son) Greg Bishop and the Church's lawyer David Jordan compiled a dossier casting doubt on Denson's credibility. Bishop then leaked the dossier to the press. The dossier included Denson's "criminal record, past allegations, [and] her church record."
The response to this development from Internet ex-Mormons was, again, predictable. On the ex-Mormon subreddit, the Church's effort in compiling the dossier was deemed a case of "smearing the reputation of the rape victim." Other ex-Mormon redditors (such as those here and here) responded with:
"Victim shaming"
"it is horrible that the church assembled all of her dirty laundry into that dossier"
"[expletive] disgusting"
"These are all despicable people."
"First rule of rape defense: attack the accuser not the evidence"
"SHAME on the Mormon church!!![sic]"
"Disgusting and wrong on so many levels."
Other progressive- and ex-Mormon bloggers (including John Dehlin and Gina Colvin, among others) had similar reactions. Turner Bitton of the Utah Coalition Against Sexual Assault was quoted in the press as tacitly criticizing the Church for the efforts to probe Denson's past. "It sends a message to that individual person, but to everyone else, that if you come forward we are going to dig through your past we're going to dig through your experiences who you are your very identity," he said. "The vast majority of people that I know that are people of faith who are don't want to see this kind of behavior . . . What they don't want to see is the church engaging in a way that looks like a ruthless corporation at times."
Victim shaming or not, the defense seemed to work . . . sort of. The case was brought before U.S. District Court Judge Dale Kimball. On August 13, 2018, Judge Kimball "dismissed all of McKenna Denson's claims — with the exception of upholding a fraud claim against the LDS Church [sic]. The judge dismissed ex-MTC president Joseph Bishop from the lawsuit entirely." The fraud claims against the Church proceeded. The Church requested for the trial to commence no sooner than March 2020.
A few weeks later, on September 2, 2018, Denson and Mike Norton (an ex-Mormon YouTuber who made a name for himself by infiltrating Latter-day Saint temples and secretly recording the ordinances performed therein) confronted Bishop at his home ward in Chandler, Arizona. Norton filmed while Denson repeated her allegations before the congregation. Before she could finish, however, she was physically removed from the rostrum by local leaders of the congregation (an action that earned blogger censure). The video of the incident went viral.
Fast forward to May 2019. As preparations for the trial are undertaken, another revelation once again brings Denson into the spotlight. On May 17, 2019 it was reported that Denson has been assaulted by, she believes, "someone is trying to intimidate her into silence." The unknown assailant, Denson alleges, broke into her house to put Drano into her orange juice, burned her car, and then, with an accomplice, physically attacked her.
Atheist blogger Hemant Mehta covered the new allegations. "There are no suspects, so it's difficult for law enforcement to take action, but Denson says she now travels with security precautions. Given that the only "enemies" she has in life are people inside the Mormon Church who think she's trying to bring it down, she is convinced that the attacks are linked to someone on the inside. What else could it be?"
Who indeed? Metha urges his readers to wait and see how the allegations pan out (that is, if they're credible), but also reminds them, "It's hard to imagine someone sacrificing so much to expose the Church's problems would put her own credibility at risk… including by putting herself in the hospital."
When the news of Denson being assaulted reached the ex-Mormon subreddit, the response was, surprisingly, much more skeptical than heretofore. One redditor urged their fellow ex-Mormons "to be really careful buying into McKenna Denson's newest claims." They warned that "by giving a platform to some of these questionable claims, you are harming the credibility of all ExMos." The ensuing discussion saw ex-Mormon redditors hashing it out amongst themselves over how believable Denson's allegations of a mysterious Drano Danite really were.
(Other ex-Mormons, of course, remained resolutely credulous.)
Now, I'm sure there are some some details here that I'm missing. But in broad strokes, this chronicles L'affaire Denson up to this point.
Then, yesterday, on May 27, 2019, Memorial Day, Mike Norton dropped a veritable atomic bomb.
(Warning: video contains strong language and discussion of sexual assault and other topics not for the faint of heart.)
In this 42-minute-long video, Norton publicly denounces Denson as "a pathological liar" and "possibly the worst human being I have ever met." He claims Denson (whose real name is June Hughes, he reveals) herself is the one responsible for the alleged attacks in May 2019. Among other things, Norton alleges that Denson has made multiple false or unsubstantiated rape accusations (including accusations of rape by black men), has harmed herself in an attempt to bring spurious lawsuits against various companies, has gotten money "under false pretenses" for cancer treatment, and has been tried and/or convicted for various crimes (including identity theft, DUI, and shoplifting). This, Norton says, is all made perfectly clear in police records going back decades. Norton openly encourages anyone watching to contact him to verify the accuracy of the reports he is reading. "I would not want to be anywhere near her," he says, "because if you get alone with McKenna Denson she could very well make some sort of allegation that you sexually assaulted her." He concludes the video with wishing Denson "rots in hell" and warning her that he will be "her worst nightmare" if she tries to bring legal action against him for the video.
(Norton also explains in the video that he has taken down his video of him and Denson crashing the September 2, 2018 sacrament meeting and apologizes to Joseph Bishop for "being slightly complicit in McKenna Denson's current public meltdown," although he still believes Bishop is "probably a man of questionable moral integrity.")
But just when you thought the drama couldn't get any thicker, Norton has released a second video (now deleted) on YouTube of a recorded phone call between him and Denson.
(Warning: video contains seriously strong language. Like, seriously. You've been warned.)
In this video, Denson confirms she has been diagnosed with Borderline Personality Disorder by a doctor in Colorado Springs, Colorado. She also discusses working with a therapist helping her with issues involving Dissociative Identity Disorder and talks about "owning" any mistakes she may have made (even if that includes losing friends).
For his part, Norton unleashes a stream of profanity against Denson for "lying to him" and "countless people for literally 40 years." He again calls her "a pathological liar," as well as "a professional con artist," "a grifter," "a [expletive] monster," and "a worthless piece of [expletive]" while reiterating his disbelief in her claims. "I can't wait to see you go down in a ball of flames." 
Speaking of the pending lawsuit against the Church, Norton informs Denson that he has been "cooperating" with the Church's legal counsel David Jordan, has recorded "every conversation" the two have had "for weeks," and is "going to burn [Denson] at the [expletive] stake." (He later reveals that he has turned his findings over to the police and to Jordan, and is willing to testify against her in court.)
At one point Norton's speech turns violent. Punctuating with a shout, he says, "Honest to God, if you were standing in front of me, let me tell ya, I would never hit a woman in my life, I would break your [expletive] nose!" He also warns her, "I want nothing to do with you, ever. And let me tell you something. You know where I live. Show up at my house and you get a [expletive] bullet between your head, your eyes."
Norton likewise brushes off concerns he's heard that Denson might commit suicide for him exposing her. "Big [expletive] deal," he retorts. "One less horrible monster on the face of the earth!"
When Denson sighs "I have nothing to say," Norton snaps back, "Good, you shouldn't say anything." Denson remains quiet while Norton calls her "a stupid [expletive] worthless [expletive]" (later a "racist [expletive]") and goads her into daring to try to take legal action against him or confront him personally on his accusations.
Both videos are rough to watch, especially the recorded phone call. To borrow and reapply a phrase used by Reddit ex-Mormons when they describe their pseudo-scriptural vade mecum, the CES Letter, if even half of what Norton says in his first video is true, then, well, it would appear that Denson's credibility has been irreparably compromised. I myself have read at least one of the police reports Norton alludes to in his videos. If, as he says, reports such as these can be multiplied, the situation does not look promising for Denson.
At this point I cannot say if what Norton alleges about Denson is true, since I only have his word and the word of a few anonymous redditors that he has accurately conveyed the details of Denson's criminal record. At this point I don't have any real reason to assume Norton is fabricating these reports. While the second video is especially proof enough that Norton is clearly not a paragon of emotional stability, his volcanic reaction against Denson is significant in light of the fact that the two were once fast friends and close allies. He has supported Denson financially (as Norton himself acknowledges in his first video, much to his chagrin) and has helped bring her accusations against Bishop and the Church to national attention. I suppose we will have to wait to see if Denson responds to his accusations and can account for the allegations made against her.
In addition, this scrape is unfortunate because if Denson does in fact have a history of prevaricating claims of rape and sexual assault, this will easily (and sadly) have negative repercussions for actual victims who may already have difficulty getting people to take their stories seriously. And to be sure, there seems to be credible evidence of some kind of sexual impropriety on Bishop's part, although Denson's accusation of attempted rape appears especially difficult to swallow in light of Norton's evidence against her.
As more details unfolded yesterday afternoon, I was struck by the reaction of what I can only presume are the predominantly ex-Mormons commenting on Norton's video. The comments largely extolled Norton for his bravery and integrity:
"Wow! Mike, I admire you for verifying the rumors about her that were going around. I realize in doing so you're accepting that you were also used by her in the process. You're not trying to sweep this under the rug to make yourself look good. People always say you have balls of steel. I think this video is the ultimate proof of that!"
"Thank you Mike for once again showing true integrity. It is not easy admitting we were conned by her. I hope the damage done can be minimized. Again thank you for being better."
"You gain an abundance of credibility with this, BRAVO!!!"
"Wow, Mike. I am so sorry this happened to you. I am sorry that it happened to the rest of us. I am grateful that you have exposed her. This kind of breach of trust doesn't get mended, at least not for me."
"Well at least this is proof that you are an unwaivering principled man Mike. Thank you for that. . . . THIS is what virtue and courage looks like."
"You are a HERO sir!! An actual real life hero. You are a shining example of integrity and rational evidence based thinking despite the desired outcome. Thank you."
The reaction on the ex-Mormon subreddit has so far echoed these sentiments in many respects. In addition to dutifully continuing to condemn Bishop, comments from Reddit ex-Mormons have included:
"Wow… just… wow! So disappointing on so many levels."  
"Yes! I am sitting here thinking about that very issue. She just set back any changes abuse victims hoped to implement. It makes me sick to my stomach."
"So it is sad all around. I would cut Mike Norton a break in the sense that he put his own credibility on the line to support MD. Sadly, he feels foolish and exploited and probably is absolutely pissed about it. MD's tough past does not give her cover for dishonesty and exploiting others."
"But the lawsuits and faking cancer and razorblades aren't helping. . . . False allegations aren't ok. Against anyone. Even the church."
"IMHO, she is a scammer, a con artist and an opportunist. . . . You should listen to the phone call on NNN youtube channel. It's a very hard call to listen to, he doesn't hold back."
"Thank you for bringing all of this to light. Now, I need to delete everything I ever posted about her."
"If only the leaders of the church would do the same when they find out they have abusers in their ranks… I'm glad Mike is reminding us all to be objective in all things."
"I have no words. That's despicable. Thank you for bringing the truth to light. You do so much good in exposing manipulators and scam artists both from the Mormon church and from people who claim to support truth."
"Thanks for being an example of integrity, Mike. This couldn't have been easy. I've always been concerned about her past and share your opinion. I really hope we're all wrong about this."
"I was always skeptical, and now even moreso. I believe you have more integrity that that other person"
To be sure, a number of Reddit ex-Mormons have rightly condemned Norton for his verbal abuse in his phone call with Denson. But so far, from the threads I'm seeing (including the archived ones that have been deleted by moderators), most of the commenters seem to be siding with Norton and are thankful that he has "exposed" Denson for being a "scammer" (their words) with nary a word of disapproval for his abusive, misogynistic, and violent language. "McKenna Denson has clearly made it less likely this community will trust someone, but it doesn't change the fact that scam artists will try to take advantage of this community again in the future," writes one Redditor in a moment of self-reflection. "When that happens, here's the number one rule to sniff them out. If they are seeking money, push them out the door. Anyone with truthful claims doesn't need money and if they do need money, they don't need donations from a bunch of exmormons that might have an emotional vested interest in their claims." (One wonders if this rule applies to Jeremy Runnells, who is currently accepting donations for his work behind his 501(c)(3) nonprofit organization the CES Letter Foundation. But I digress.)
As L'affaire Denson continues to unfold, we'll see how Denson and Norton and other players in the online ex-Mormon community (including Reddit) respond. For now, let say a few parting words directly to Internet/Reddit Ex-Mormons everywhere and describe for them the serious dilemma they currently find themselves in:
The time is long overdue for you to take a good hard look in the mirror and collectively (and individually) acknowledge your transparent hypocrisy. When the Church's and Bishop's lawyers probed Denson's background for their dossier, your reaction was apoplectic rage. You condemned the Church for victim shaming. You called Church leaders (and their hired legal counsel) defenders of rape. When Greg Bishop leaked the dossier to the press, you publicly crucified him. Yet so far the reaction of many of you to Norton doing literally the exact same thing (spending dozens of hours over the past week uncovering her criminal record and even, by his own admission, helping the Church's lawyer David Jordan who worked on the original dossier) has been largely to herald him as a hero while giving him a slap on the wrist for being mean to Denson on the phone. (Do I even need to mention how if, say, Daniel Peterson ever said anything even remotely close to what Norton said in that phone call you'd be calling for his head on a silver charger?)
It's time for you to own the fact that L'affaire Denson has laid bare how few of you actually care about truth and moral consistency; that many of you are wilfully residing in a noxious echo chamber devoted to nurturing and reinforcing your seething hatred for the Church and its leaders, your thinly-veiled contempt for believing Church members, and your ideological blinders and cognitive biases. Your reaction to Mike Norton not only doing precisely what the Church has done in this case but cranking things up to 11 by publicly going through her rap sheet case by case has exposed you as little more than sanctimonious moral grandstanders whose main concern is making sure you "own the TBMs" and burn "TSCC" to the ground.
If that's what you're about, then fine. But you need to own it. Own it and drop this laughable talk about your commitment to objectivity, your sterling rationality, and your transcendent wokeness. (#BelieveWomen ammiright?)
Or, alternatively, as L'affaire Denson continues to develop, prove me wrong. Disavow Norton in no uncertain terms, ban him from the ex-Mormon subreddit for his victim shaming and rape apologia, force him to make a digital walk of atonement through the streets of r/exmormon, and never let me hear his name uttered on the lips of a single ex-Mormon redditor ever again unless it's immediately followed with the same breathless condemnation you so freely heap on the leaders of the Church.
Denson, as of yet, has not rebutted or addressed Norton's charges against her. It's not too late to decide if you're going to side with Denson, "listen to the voices of victims," and brand Norton a rape apologist, or side with Norton and cast Denson aside as a duplicitous mountebank. 
But remember, if you pick the former, Norton is to forever be branded a rape apologist, violent misogynist, and sellout to TSCC; if you pick the latter, you owe one whale of an apology to Church leaders for the calumnies you've spat at them over the course of this entire sad debacle.
The ball's in your court, Internet exMos. Make your choice.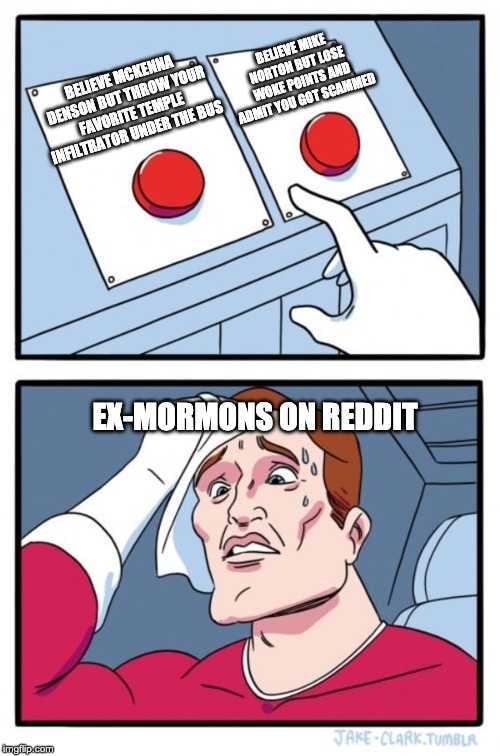 (Addendum: May 29, 2019)
Derek Knox reported on a recent podcast that he has spoken to Denson to get her side of the story. You can listen to Knox's summary with his co-host James C. Jone of the conversation he had with Denson here (starts around the 10 minute mark).