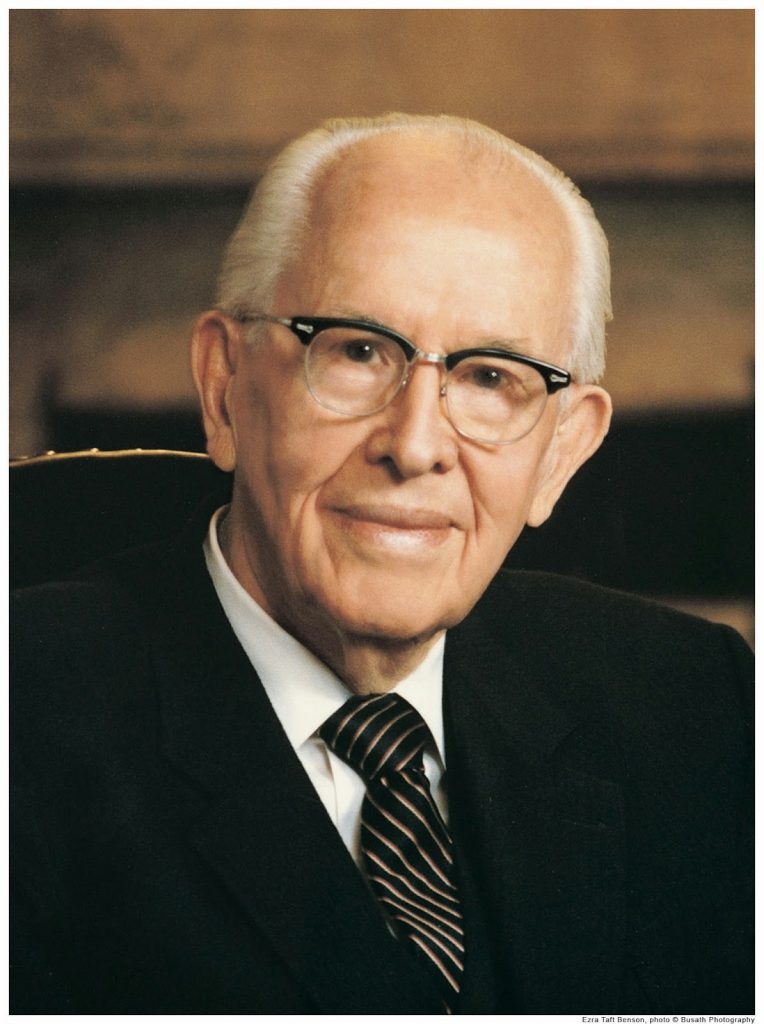 President Ezra Taft Benson (1899–1994).
A friend of mine posted this on Facebook, and I want to repost it here.
President Benson once taught:


"Sometimes we hear someone refer to a division in the Church. In reality, the Church is not divided. It simply means that there are some who, for the time being at least, are members of the Church but not in harmony with it. These people have a temporary membership and influence in the Church; but unless they repent, they will be missing when the final membership records are recorded.


"It is well that our people understand this principle, so they will not be misled by those apostates within the Church who have not yet repented or been cut off. But there is a cleansing coming. The Lord says that his vengeance shall be poured out "upon the inhabitants of the earth. . . . And upon my house shall it begin, and from my house shall it go forth, saith the Lord; First among those among you, saith the Lord, who have professed to know my name and have not known me. . . ." (D&C 112:24–26.). I look forward to that cleansing; its need within the Church is becoming increasingly apparent.


"The Lord strengthened the faith of the early apostles by pointing out Judas as a traitor, even before this apostle had completed his iniquitous work. So also in our day the Lord has told us of the tares within the wheat that will eventually be hewn down when they are fully ripe. But until they are hewn down, they will be with us, amongst us…


"Yes, within the Church today there are tares among the wheat and wolves within the flock. As President J. Reuben Clark, Jr., stated: "The ravening wolves are amongst us, from our own membership, and they, more than any others, are clothed in sheep's clothing because they wear the habiliments of the priesthood. . . . We should be careful of them. . . ." (Conference Report, April 1949, p. 163.)


"The wolves amongst our flock are more numerous and devious today than when President Clark made this statement.


"President David O. McKay said that "the Church is little, if at all, injured by persecution, and calumnies from ignorant, misinformed, or malicious enemies. A greater hindrance to its progress comes from faultfinders, shirkers, commandment-breakers, and apostate cliques within its own ecclesiastical and quorum groups." (Conference Report, October 1967, p. 9.)


"Not only are there apostates within our midst, but there are also apostate doctrines that are sometimes taught in our classes and from our pulpits and that appear in our publications. And these apostate precepts of men cause our people to stumble. As the Book of Mormon, speaking of our day, states: ". . . they have all gone astray save it be a few, who are the humble followers of Christ; nevertheless, they are led, that in many instances they do err because they are taught by the precepts of men." (2 Ne. 28:14.)" ––– Ezra Taft Benson, God, Family, Country, 253-263.
"Apostate cliques." I like that. Sums up Ordain Women and Mormon Stories pretty well.
BTW, one blogger, apparently with a straight face, incredulously asked, "What exactly has John Dehlin done wrong?"
That's a good question, and one that has been thoroughly answered.*
*And this only covers stuff Dehlin had been doing up to 2012. I have in my possession another document (that will hopefully see the light of day sometime soon), almost as long, synthesizing Dehlin's attacks on the Church since 2012.