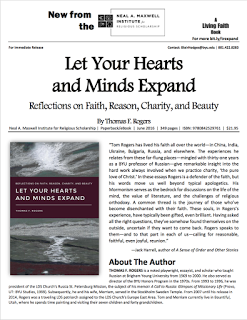 Click to enlarge
The Neal A. Maxwell Institute's "Living Faith" series adds another volume alongside its already respectable roster of books with the publication of Let Your Hearts and Minds Expand: Reflections on Faith, Reason, Charity, and Beauty. The book is a collection of essays and poetry by Thomas F. Rogers, a Latter-day Saint playwright and scholar who taught at Brigham Young University for some 30 years. It is an interesting mix of apologetics, personal memoir, and meditations on gospel and other philosophical themes. While I admittedly found some parts much more interesting than others, overall I feel that Let Your Hearts and Minds Expand is a solid addition to the Living Faith series.
The book is structured into four parts that reflect the four things named in the book's subtitle: faith, reason, charity, and beauty. Part 1 ("The Just Shall Live by Faith") reads very much like Adam Miller's Letters to a Young Mormon. Along personal reflections on his service in the Church, it is comprised of a number of correspondences between Rogers and his family members and friends. Rogers is commendably honest in tackling the contradictions that often attend those who live a life of faithfulness, such as when he acknowledges the reality of the doubts of his former student Mark (pp. 24–28). Rather than pretending like these doubts don't or shouldn't exist, Rogers frankly addresses Mark's doubts (although the readers are not really told what specifically they are). "I want to say whatever else I can that might reassure and reconcile you to what we have both experienced" in the Church, Rogers writes (p. 24). This is a wholesome way to help those who experience doubts. Instead of shaming or guilting them for having questions or doubts, one should rather reach out and freely talk about those challenges in a place of safety and love.
That being said, it is also entirely appropriate, as Rogers does, to give reasons or benefits for remaining in the Church despite challenges to faith. For Rogers these include a "sense of selflessness and high personal moral standards" (p. 25), a "special emphasis the church places on the importance of family" (p. 25), an "eternal and potentially exalted self-image" that is granted by the gospel (p. 26), the "preeminently sacralized history" that thrills students of Mormon history (p. 26), the concept that we are "literally the children of deity" (p. 26), and the "serene 'peace that passeth understanding'" afforded to the faithful (p. 26).
The second part of Let Your Hearts and Minds Expand ("Now Come, Saith the Lord, and Let Us Reason") was my favorite, and included outstanding contributions to the discourse surrounding how Latter-day Saints can balance testimony with scholarship or rationality. Again, Rogers' treatment is marked with unflinching honesty. In a republished version of a 1990 article, Rogers directly took to task Latter-day Saints who feel only "faith-promoting" history should be written.
But to those who in their turn selectively handle Mormon history and discourage our probing it in a number of areas, one needs to say (or at least ask): Haven't we been, if anything, overly cautious, overly mistrustful, overly condescending to a membership and a public who are far more perceptive and discerning than we often give them credit for? Haven't we, in our care not to offend a soul or cause anyone the least misunderstanding, too much deprived such individuals of needful occasions for personal growth and more in-depth life-probing experience? In our neurotic cautiousness, our fear of venturing, haven't we often settled for an all-too-shallow and confining common denominator that insults the very Intelligence we presume to glorify and is also dishonest because, deep down, we all know better (to the extent that we do)? Isn't our intervention often too arbitrary, reflecting the hasty, uninformed reaction of only one or a couple of influential objectors? Don't we in the process too severely and needlessly test the loyalty and respect of and lose credibility with many more than we imagine? Isn't there a tendency among us, bred by the fear of displeasing, to avoid healthy self-disclosure–––public or private–––and to pretend about ourselves to ourselves and others? Doesn't this in turn breed loneliness and make us, more than it should, strangers to each other? And when we are too calculating, too self-conscious, too mistrustful, too prescriptive, and too regimental about our roots and about one another's aesthetic, intellectual, and spiritual life, aren't we self-defeating? (pp. 102–103)
Comments such as these reveal a welcomed maturity on Rogers' part. Latter-day Saints who wish to find harmony between their faith and reason should ask themselves these kinds of questions to achieve such a maturity.
The last two sections of the book cover the topics of charity and beauty ("The Greatest of These Is Charity" and "Out of Zion, the Perfection of Beauty, God Hath Shined"). Truthfully, these were the two sections that I found the least interesting. Not that they're entirely bereft of anything worthwhile, I hasten to add. Rogers' account of his time as a traveling patriarch in Russia (pp. 194–217) offers an intimate look at the lives of Church members in Eastern Europe, to say nothing of Rogers' own life and experience. I suppose my lukewarm reaction to these two sections is more because my own interests lie elsewhere, and not because of any poor quality on the book's part. I am sure there are many who would find these sections interesting. Those particularly interested in literary theory would most likely enjoy these sections, as especially in part 4 Rogers delves into such (e.g. "The Sacred in Literature," pp. 255–269 and "The Image of Christ in Russian Literature," pp. 318–338).
Given its somewhat eclectic nature, Let Your Hearts and Minds Expand probably has something to offer for everyone. Those interested in more traditional apologetics will especially appreciate part 2. Those who are seeking a sympathetic voice when it comes to grappling with a faith crisis will probably find much agreeable material in part 1. And those interested in literature and the dramatic arts will enjoy the reflections in part 4. I would therefore recommend Let Your Hearts and Minds Expand as a fine volume for any Latter-day Saint to add to their personal library.