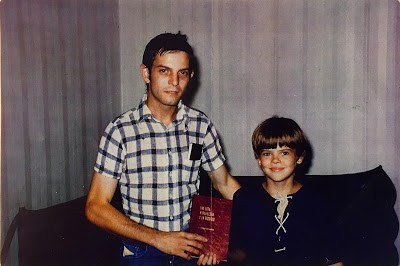 José Almerich (left) with my uncle Matthew Stevens (right) circa 1973–1976.
This account was written by my mother Jill Stevens Smoot. The following transcription has standardized and corrected some grammar, spelling, and punctuation.
This is the true story of José Almerich.
From 1973–1976 my father, Robert V. Stevens, along with his wife Sue Stevens and their five children, presided over the Spain Mission. My parents would, as often as possible, take us children with them as they traveled all over Spain to various missionary zone conferences. These were wonderful opportunities for us as children. Often we were overwhelmed by the Spirit and would be strengthened by the talks and powerful testimonies shared in these meetings. It was no different for my younger brother Matthew. At eight years of age, Matthew found himself sitting in on the morning session of a Valencia zone conference. Anxious to be like the missionaries, Matthew arrived for the morning session wearing a white shirt and tie.
Excited at the lunch break, Matthew begged our mother to let him go outside with some of the missionaries so that he could pass out a Book of Mormon. Reassured by the missionaries that they were happy to watch over my little brother, my mother gave her permission.
Handing Matthew a Book of Mormon in Spanish, my mother asked him, "What do you want to say to someone in Spanish when you give them this book?" Matthew answered, "Would you like to learn how to be happy?" And so my mother taught him how to say ¿Quieres aprender a ser feliz? Matthew replied, "If the gospel makes me happy, then it cane make someone else happy too."
Matthew waited on the street corner that day for over an hour for just the right person to come along to give his copy of the Book of Mormon. Waiting as patiently as an eight year old child possibly could, Matthew soon spotted a young twenty year old man by the name of José Almerich crossing the street with a letter in his hand. José was headed for a mail box located on the same street corner where Matthew was standing. Before José could drop his letter into the mail box, Matthew approached him, handed him the Book of Mormon, and asked him if he wanted to learn how to be happy.
Surprised, José said thank you and took the book home with him. Enclosed was the address of the local meetinghouse along with the schedules for Sunday services. It was not long afterwards when José showed up to church having already read the Book of Mormon. He began taking the discussions and in time found that he was ready to be baptized.
José told my father on the day of the baptism the rest of his story. José had had a painful childhood. He was sent off to an all-boys boarding school at a very young age, rarely seeing his family for many years to come. Consequently, he received no help, support, or counselling for the physical and emotional abuse he suffered while attending school.
Following graduation he went straight into the armed services. After completing the required two years of military duty, José found himself all alone and extremely lost. Soon he began looking for some kind of meaning or direction to his life. He studied various religions but found no real satisfying answers.
José told my father that having finally come to the lowest point in his life and having given up all hope for finding family or answers that might help him work through his painful past, he found himself writing a farewell letter to his only friend in the world. He showed the letter to my father and said, "President Stevens, I had no more desire to live. The pain I was suffering was too great, and so I had made the decision to end my life. I wrote my kind friend this letter asking for his forgiveness and said my good-byes. On the day I met your Matthew, I was on my way to mail this letter with the plans of returning home quickly to do just that. As I was crossing the street to approach the mail box, I remember physically wiping the tears away from my eyes with the thought that I had never been so unhappy."
"And it came to pass that I beheld a tree, whose fruit was desirable to make one happy." (1 Nephi 8:10)
Postscript: the Book of Mormon speaks of "the great plan of happiness" (Alma 42:8), and describes a time when Nephi's people "lived after the manner of happiness" (2 Nephi 5:27). Lehi taught, "Adam fell that men might be; and men are, that they might have joy" (2 Nephi 2:25). Reading and living the doctrinal and moral precepts narrated in the Book of Mormon will not only lead to an increase of worldly joy, but will ultimately draw men and women to God, who thereby shall have a "fulness of joy" in His kingdom (3 Nephi 28:10).