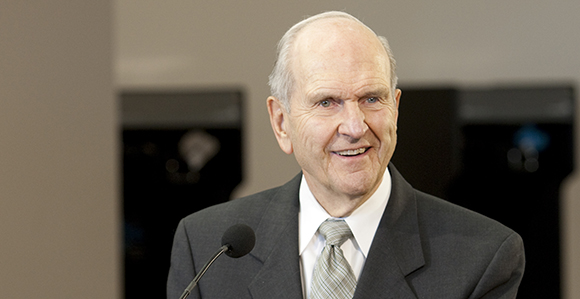 The ascendency of Russell M. Nelson to the presidency of The Church of Jesus Christ of Latter-day Saints on January 14, 2018 was met in some corners with fear and trembling. In a post at the popular blog By Common Consent that was eventually deleted, one blogger flatly declared that "President Nelson is particularly unfit for the office of President of the Church of Jesus Christ of Latter-day Saints." This blogger was adamant that "President Nelson bears unique responsibility for the [November 5, 2015 policy on same-sex couples] and for the innocent blood that has been spilled as a direct result of its continued existence." While still sustaining him as President of the Church and expressing desire to afford him some measure of patience and charity, this blogger questioned whether God "orchestrated President Nelson's call to the First Presidency" and hopefully reminded his readers that the "chances are very very [sic] good that you will outlive President Nelson."1
Similar sentiment was, to varying degrees, expressed in other parts of the Internet. President Nelson, it was widely assumed, would retrench the Church in old school fundamentalism, double down on "Mormon" racism and homophobia, and fossilize institutional practices and hierarchical structures.
It has now been one year, one month, and six days since Russell M. Nelson assumed leadership of the Church. Let's review just some of what has transpired under his tenure as President of the Church during this time.
Observing this trend prompted a friend and I to coin a meme we call "Retrograde Nelson" (also a hashtag). The meme ironically highlights what are rather progressive and, if you will, "woke" comments and policy actions by the supposed retrograde and regressive President Nelson. At several points my friend and I shared these headlines with each other with the comment "looks like Retrograde Nelson strikes again!" to punctuate our amusement with President Nelson's incongruous and unexpected wokeness (so-perceived).
To be sure, the Church has not become some sort of Progressive bastion. And for many, nothing short of full LGBT and gender equality in the Church (in matters pertaining to, say, temple sealings and priesthood ordination) will be sufficient. Be that as it may, one cannot help but feel that some of the more dramatic caterwauling heard back at the time of President Nelson's appointment as Church President was perhaps overblown. While the Church under President Nelson may not be as Progressive as a Portland vegan dinner party hosted by Hillary Clinton and Cecile Richards, it is nowhere close to being some kind of Handmaid's Tale-esque dystopian nightmare. Not by any feasible stretch of the imagination.
Postscript: At the recommendation of a friend, I am going to continue updating the list of President Nelson's regressive and retrograde policy actions.
Since the blog post was taken down I felt it would be discourteous to give the author attribution. Nevertheless, this blogger publicly said the things they did, and I have no real reason to think they have backed down from their position. On the contrary, I have very good reason to think this particular blogger has the same opinion today as they did when they originally posted these comments. I may of course be mistaken, but I don't think I am.