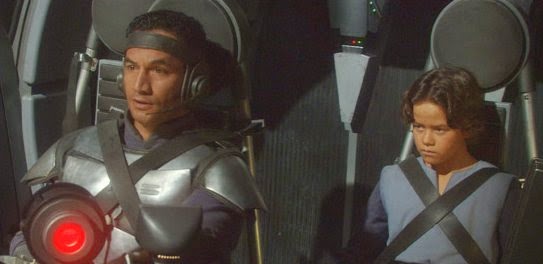 "He doesn't seem to take a hint, this guy." – Jango Fett (left) to his son/clone Boba (right) after trying to destroy a pursuing Obi-Wan Kenobi with seismic charges.
The Church has released an official statement on the efforts of Ordain Women to seek entrance into the upcoming Priesthood Session of General Conference. The letter is worthy of being read in its entirety. Here are a few things that stood out to me.
1. The Church views Ordain Women as an "activist group."
2. The Church feels that Ordain Women "detracts from the helpful discussions that Church leaders have held as they seek to listen to the thoughts, concerns, and hopes of women inside and outside of Church leadership."
3. The Church has asked that members of Ordain Woman confine their activism "in [the] free speech
zones adjacent to Temple Square." You know, the same place where these guys are asked to stay.
4. The Church informed Ordain Woman that most women in the Church consider their position "extreme," and that "by a very large majority, [they] do not share your advocacy for priesthood ordination for women."
Here is the official response to this letter by Ordain Women.
We at Ordain Women are saddened to learn that our request for tickets to the upcoming priesthood session of General Conference has been denied. As faithful Mormon women, we are eager to participate in the dialogue on the policy of women's priesthood exclusion.
As a demonstration of our eagerness for the blessings and responsibilities of the priesthood, we will reverently seek admission to the priesthood session on Saturday, April 5th. We pray that our request will be reconsidered.
Now, like I said in this post, I consider myself a moderate progressive on a number of social and theological issues both inside and outside of the Church. I am not opposed, on principle, to women being ordained to the priesthood, but I first and foremost recognize that it is the prerogative of President Monson and his brethren in the First Presidency and the Quorum of the Twelve, as they feel so inspired, to make this decision. So, if God reveals to President Monson that women should be ordained to the priesthood, then great. I have nothing against that.
But he hasn't. I won't say whether or not he ever will, but what I can say is that everything the Church has said on the matter so far is pretty clear. This latest letter from the Church is just another example.
I'm sorry, but I think Ordain Women needs to take a hint.
– Update –
Nathaniel Givens has an excellent post here on this topic.