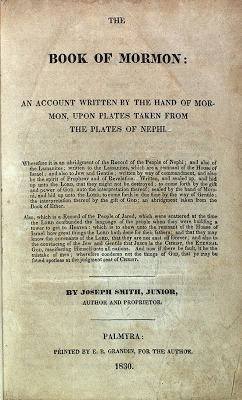 The title page of the 1830 edition
of the Book of Mormon.
Last summer there was a bit of an online tussle between Philip Jenkins, a professor of history at Baylor University, and a number of Mormon commenters (including William Hamblin, a retired professor of history at Brigham Young University) on the topic of what Jenkins called "ancient Book of Mormon studies" (ABMS), or the scholarly study of the Book of Mormon as an ancient historical text. (This discussion was spread across a number of blogs and web forums over the span of a month or so, and so I'll leave it to the reader to follow the Google rabbit hole if he or she wishes.) According to Jenkins, ABMS is a pseudo-science that is not taken seriously by academics outside the parochial halls of BYU. And even then, Jenkins insisted, BYU itself was coming to see ABMS as a futile undertaking not worthy of serious consideration. Why else, he wondered, is there no degree being offered at BYU in ABMS? Well, obviously it was because nobody, not even BYU, really takes ABMS seriously. This, as well as the Maxwell Institute's "new direction" away from ABMS, was prima facie proof for Jenkins that ABMS is a fool's errand.
A few weeks ago I was alerted to the recent publication of volume 321 of the series Nineteenth-Century Literature Criticism. Not being familiar with this series, I did some online sleuthing. As explained on the website of its publisher, Nineteenth-Century Literature Criticism,
assembles critical responses to the works of 19th-century authors of all sorts—novelists, poets, playwrights, journalists, philosophers, political leaders, scientists, mathematicians and writers from other genres—from every region of the world.
Each of the more than 300 volumes in this long-standing series profiles approximately 3-6 novelists, poets, playwrights, journalists, philosophers or other creative and nonfiction writers by providing full-text or excerpted criticism reproduced from books, magazines, literary reviews, newspapers and scholarly journals. Clear, accessible introductory essays followed by carefully selected critical responses allow end-users to engage with a variety of scholarly views and conversations about authors, works and literary topics. Introductory essays are written and entries compiled by professional literature researchers and other subject matter experts; many include an author portrait. A full citation and annotation precede each of the approximately 50 essays per volume. The series currently covers nearly 600 authors and also includes numerous entries focusing on literary topics and individual works. Students writing papers or class presentations, instructors preparing their syllabi, or anyone seeking a deeper understanding of the 19th century will find this a highly useful resource.
So far, so good. But what does this have to do with ABMS?
Well, volume 321 covers none other than the Book of Mormon in nearly 130 pages of critical notes and reproduced scholarly articles. What is especially pertinent to ABMS, however, is what was reproduced.
You see, following a reproduction of Alexander Campbell's (in)famous critique Delusions, the volume reprints the following:
What do these three pieces have in common? All of them make arguments for the Book of Mormon's antiquity and historicity. All of them are early works in ABMS that read the Book of Mormon as an ancient, not a modern, text.
And all of them have been reproduced in a mainstream, non-Mormon academic publication as works deemed important for understanding the Book of Mormon.
To be sure, the compendium also reproduces works that read the Book of Mormon as a 19th century text. But this does not take away from the fact that the editor of this volume, Lawrence J. Trudeau, decided that these three works arguing for the Book of Mormon's historicity were of high enough academic calibre that they deserved to be included in the scholarly discussion.
It would appear, then, that Professor Jenkins was a bit hasty in his damning verdict against ABMS.