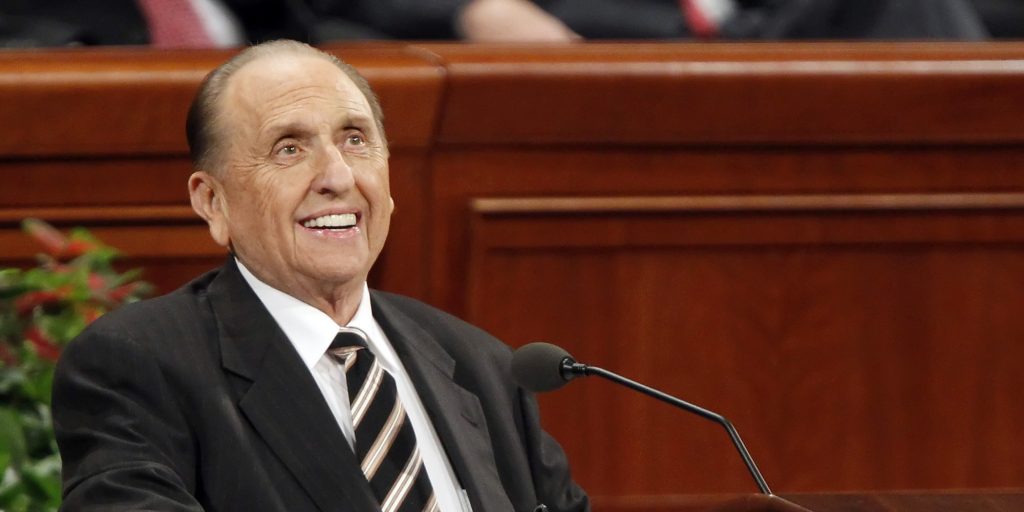 President Thomas S. Monson, sixteenth president and prophet of The Church of Jesus Christ of Latter-day Saints, died on January 2, 2018, as reported on the Church's website. The news reached me just as I was turning in for the night. As I fell asleep I was able to ponder on how I gained a testimony of President Monson's inspired calling as an apostle and prophet.
Gordon B. Hinckley, President Monson's predecessor, died on January 27, 2008. At the time I was a Junior at East High School in Salt Lake City, Utah. I remember watching TV when a special news bulletin interrupted the show I was watching. I don't remember what my initial response was besides a general sadness for losing the man I had grown up with as president of the Church. What I do remember is that I struggled with accepting that President Monson would be President Hinckley's successor. After all, President Hinckley this whole time had been my prophet. Since I could remember I had grown up listening to him at General Conference, reading his messages in the Ensign, and even on one occasion briefly meeting him and listening to him speak in person. Who was this Monson guy suddenly? I also confess that I struggled to accept the idea of Thomas S. Monson being the prophet because I heard he liked to duck hunt. Growing up my parents sternly frowned on hunting, and that negative opinion of the sport rubbed off on me as an impressionable kid. (Even today I'm still kind of leery about it.) "Could someone who hunts really be a prophet?" I wondered to myself.
To be clear, I never opposed President Monson as being president of the Church. I sustained him at the Church's April 2008 General Conference when in solemn assembly he was presented to the body of the Church for a sustaining vote. I just never really had a personal conviction or testimony that he was indeed a prophet. This, thankfully, changed shortly before my mission. A year or so later I read President Monson's message in the July 2009 Ensign titled "Sugar Beets and the Worth of a Soul." As I encountered President Monson's message, my heart began to change. President Monson began his remarks by sharing this story:
Picture with me, if you will, a farmer driving a large open-bed truck filled with sugar beets en route to the sugar refinery. As the farmer drives along a bumpy dirt road, some of the sugar beets bounce from the truck and are strewn along the roadside. When he realizes he has lost some of the beets, he instructs his helpers, "There's just as much sugar in those which have slipped off. Let's go back and get them!"
He then related this to reaching out to save those who have fallen off the truck, as it were, of Church activity and gospel commitment.
In my application of this illustration, the sugar beets represent the members of this Church for whom we who are called as leaders have responsibility; and those that have fallen out of the truck represent men and women, youth and children who, for whatever reason, have fallen from the path of activity. Paraphrasing the farmer's comments concerning the sugar beets, I say of these souls, precious to our Father and our Master: "There's just as much value in those who have slipped off. Let's go back and get them!"
As I read more I felt the Spirit quietly testifying to me that Thomas S. Monson was a good, kind, loving, inspired man, and indeed the rightful successor in the presidency of the Church. I recall it was precisely at this moment in the text when I felt the final confirmatory prompting from the Spirit certify President Monson was a prophet.
I encourage you to reach out to those you serve and to love them. When you really love those you serve, they will not find themselves in that dreaded "Never, Never Land"—never the object of concern, never the recipient of needed aid. It may not be your privilege to open gates of cities or doors of palaces, but true happiness and lasting joy will come to you and to each one you serve as you take a hand and reach a heart.
I left on my mission shortly after this, entering the Missionary Training Center on September 30, 2009. While on my mission I read the biography of President Monson written by Heidi S. Swinton. As I read about a life dedicated to Christ-like love and service I felt my testimony in President Monson being renewed. After that I never doubted the inspired calling of this great man.
Returning home from my mission initiated me into the tumultuous world of modern Mormonism. My time at Brigham Young University from 2011-2015 was marked by the fallout of Proposition 8 and the general progress of LGBT+ activism (within and outside of the Church), the Ordain Women movement, the rise of the schismatic Denver Snuffer, the rise of John Dehlin giving prominent dissident voice to those wishing to undermine the authority and credibility of Church leaders, the propagandistic CES Letter with its brazen (but also comically inept) attempt to explode the foundational truth claims of Mormonism, the so-called "November 5 Policy" towards LGBT+ Mormons and their children, the dissident group Any Opposed? and its disruptive presence at General Conference, and a host of other movements and personalities, big and small, vying for social or doctrinal change in the Church. While some of these issues (such as the CES Letter and Any Opposed?) I could easily brush aside as absurd non-threats to my testimony, others (such as the November 5 Policy) made me genuinely question what I believe and where my loyalty ultimately lies.
But in the midst of my questions and struggles, I never lost faith in President Monson's divine calling as the Lord's prophet. Like Nephi I do not know the meaning of all things, but I do know that God loves his children, and that through his servant Thomas S. Monson he was able to touch countless lives for the better, including my own. President Monson may not have been an adept scriptural exegete with a command of the intricacies of biblical Hebrew or Greek, he may not have been able to boast of divinity degrees from Harvard or Claremont or Oxford, he may not have been published in top tier academic journals, but he was a devoted disciple and an inspired apostle of Jesus Christ who spent his life reaching out in love and ministering in the work of the Lord.
So as I say a temporary goodbye to that gentle giant President Monson, the man whose signature appears on my missionary call, I think back on how my life has changed and how my testimony has grown over the past decade. One of the few constants during those often clamorous days was my love for President Thomas S. Monson and my unwavering belief in him as the Lord's prophet. None of the cries of "Lo here" and "Lo there," none of the sleek sophistry of charming online charlatans, no podcaster or rhetor or Internet ideologue or "social activist" could convince me to abandon that soft, tender, yet powerful prompting of the Holy Ghost quietly given to me on a warm July evening.