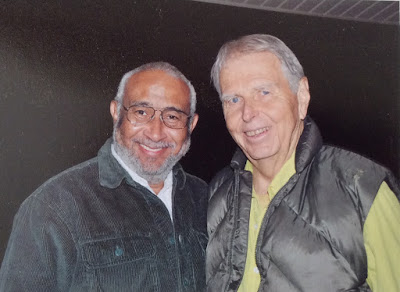 Darius Gray (left) and Stephen P. Smoot (right).
My grandfather and namesake, Stephen Parkinson Smoot, lived from 1928–2012. (You can read his full obituary here.) His legacy includes being a civil rights champion (for both people of color and LGBT individuals), a successful businessman, a notable Utah politician, a faithful member of The Church of Jesus Christ of Latter-day Saints, a loyal husband and father, and a loving, warm, humorous, and outstanding human being.
Today I visited my family's ranch. I grew up on this ranch until I was about 8 or 9 years old, whereupon my family and I moved to Salt Lake City, Utah, where I spent the rest of my childhood and teenage years. My family still owns a cabin up on this ranch, right next to my grandfather's old cabin where he lived for many years. Today, while visiting the ranch, I stopped by my grandfather's old cabin where my sister and brother-in-law currently live. I noticed the picture above on the fridge and felt compelled to whip out my phone and snap a picture of it.
You see, my grandfather was an early champion of black Latter-day Saints. He was a supporter of the Genesis Group and advocated for the ordination of blacks to the priesthood long before the 1978 revelation to President Spencer W. Kimball.
Seeing this picture of my grandfather standing next to none other than Darius Gray reminded me of one of the most memorable experiences of my life. It happened at my grandfather's funeral in 2012. There were many in attendance (including Elder M. Russell Ballard of the Quorum of the Twelve and former BYU president Cecil O. Samuelson) during both the viewing and the actual funeral service. Shortly before the funeral service, I was meandering about the foyer talking to family and friends. At one point I turned around and was startled to be facing Brother Gray. Without giving him my name I shook his hand and thanked him for his example as a faithful black Latter-day Saint and for his work on black Mormon history. He thanked me in return, and then asked my name and how I was related to "Steve" (as he called him). I told him my name was Stephen O. Smoot and that Stephen P. Smoot was my grandfather. Brother Gray's mouth dropped and then a smile flashed across his face. "Your grandfather," he exclaimed, "was an absolutely wonderful man, and one of my dear friends. I will always love him for his years of friendship and support not just for me, but for many other blacks both in and out of the Church." Brother Gray then took a step forward and added, "Okay, I need to give a hug to the grandson of Stephen Smoot."
He then hugged me and thanked me again for all grandpa had done.
That experience solidified my grandfather's legacy in my heart. I'm proud to bear his name, and hope I can continue his legacy of compassion for all of God's children.
"[The Lord] inviteth them all to come unto him and partake of his goodness; and he denieth none that come unto him, black and white, bond and free, male and female; and he remembereth the heathen; and all are alike unto God" (2 Nephi 26:33)