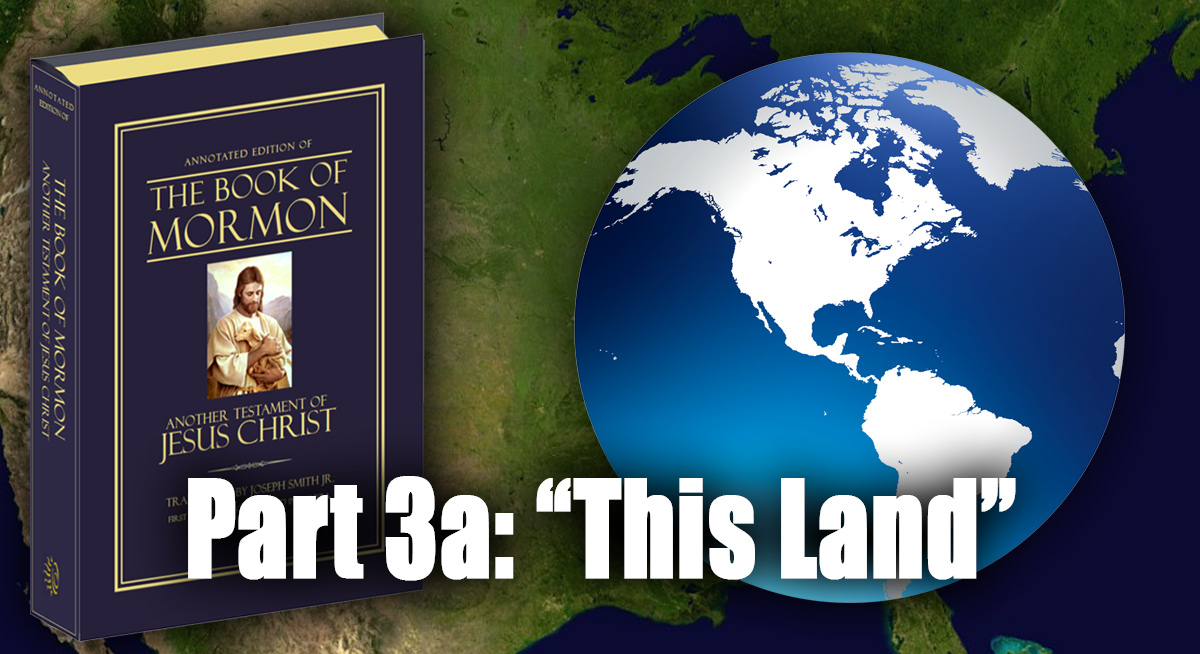 Part 1 ⎜Part 2⎜Part 3A⎜Part 3b⎜Part 3C⎜Part 3D ⎜Part 3E ⎜Part 4⎜Part 5⎜Part 6⎜Part 7⎜Part 8⎜Postscript
Misrepresentations of Historical Sources
"This land," "this country," and "this continent" of America
The Annotated Edition of the Book of Mormon (AEBOM) quotes nineteenth century Latter-day Saint sources speaking of "this land," "this country," or "this continent" of America being the location of Book of Mormon events. The obvious aim of this endeavor is to create the impression that these statements can only be referring to the "heartland" of the United States, and not possibly Central or South America (22, 408, 417, 446, 462, 486, 498, 505, 518, 524–525, 549). However, this is a presentistic, anachronistic, and ideological reading of these sources. A survey of contemporary nineteenth century sources from both Latter-day Saints and non-Latter-day Saints reveals that "land," "country," and "continent," both with and without the determiner this, were used broadly to cover a range of territory outside the continental United States. Such a survey also reveals that phrases such as "American continent" and the like ("America," "American") could subsume areas of Central and South America and even islands in the Caribbean. Take, for instance, these examples (italics used for emphasis):
This expansive definition of the American "continent" to include both North and South America is reflected in additional sources, such as Charles Knight's 1841 encyclopedia which defines the span of the American continent in comparison with Asia, Africa, and Europe as being 15,000,000 square miles, with 32,000 miles of ocean coastline "without the coast of the Arctic Sea."36 This can only make sense if one includes all of North and South America, as the continental United States today is only roughly 3 million square miles of contiguous land.37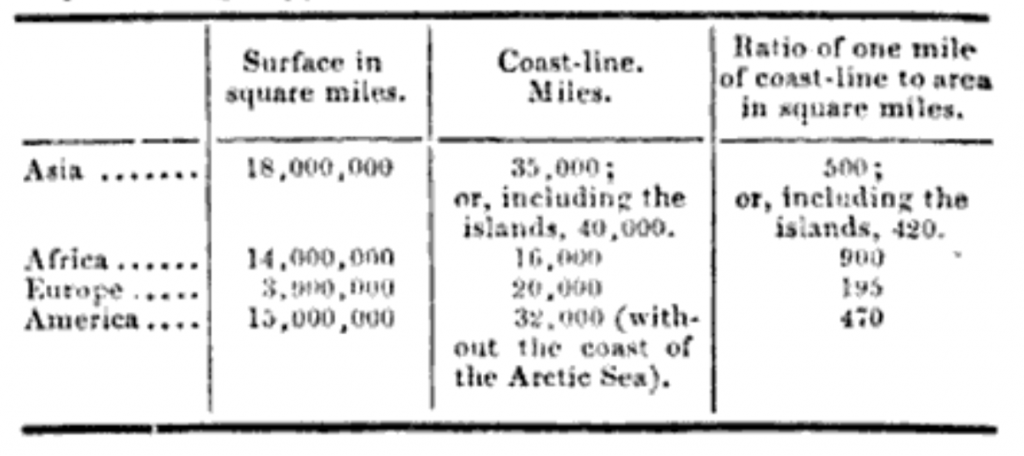 There is no good reason to exclude Central or South America from the use of "this land" or "this continent" of "America" by nineteenth century Latter-day Saint sources, including Joseph Smith. On the contrary, Latter-day Saints well into the beginning of the twentieth century shared "a common understanding" of a hemispheric geography for Book of Mormon events "by placing the Nephites in South America and the Jaredites in North America."38 Accordingly, "this land" and "this continent" of "America" could only have had hemispheric connotations in these sources.39 This is consistent with contemporary nineteenth century non-Latter-day Saint usage of the same phraseology, thus demonstrating that such was commonplace in the immediate English-language culture of the Book of Mormon's first readers.
Even into the twentieth century, highly influential Latter-day Saint writers such as Elder B. H. Roberts continued to have a hemispheric geography in mind while employing this verbiage.40 "The Book of Mormon reveals the fact that there existed two great civilizations on the American continent," wrote Roberts in 1907. "The first [the Jaredites] was established by a colony which left the valley of the Euphrates in very ancient times, established themselves in the North American continent, and in time grew to be a great nation far advanced in civilization . . . The second civilization [the Nephites and Lamanites] resulted from two colonies which came from Judea; one led by Lehi, landing in South America; the other colony was led by Mulek, who escaped from Palestine after the overthrow of Jerusalem by the Babylonians. This colony landed in North America."41 With his hemispheric geography in mind, Roberts continued to write how "the Book of Mormon gives a voice to the ruined cities and half buried monuments upon this land of America."42
Contrary to the efforts of Hocking and Meldrum to create a false impression that this phraseology could only have meant the United States, the use of "this land" and "this continent" to describe the events of the Book of Mormon in early Latter-day Saint geographical discourse does "not exclude any portion of the Americas but [is] consistent with the hemispheric view of the Book of Mormon espoused by early Latter-day Saints."43 To insist otherwise is to force these sources into an ideological position that is alien to the worldview of early Latter-day Saints. As Andrew H. Hedges has succinctly summarized,
To think . . . that the phrase "this continent" in these documents necessarily meant "North America" to early nineteenth century Americans, or that "America" or "this country" meant the "United States," would be a mistake. . . . For Joseph and his contemporaries, "continent" typically meant "a great extent of land, not disjoined or interrupted by a sea; a connected tract of land of great extent; as the Eastern and Western continent." In at least one of the letters cited above, in fact, "this continent" is indeed juxtaposed with "the eastern continent," reflecting this hemispheric approach to the word rather than the more narrow definition most people would give it today. Similarly, "America," was considered "one of the great continents, . . . extend[ing] from the eightieth degree of North, to the fifty-fourth degree of South Latitude"—that is, all of North and South America combined. True, "[f]rom Darien to the North, the continent [was] called North America, and to the South, it [was] called South America," but the singular noun makes it clear that "America" alone included everything from Point Barrow to the Cape of Good Hope. "Country," too, carried the same ambiguity, which explains how either Joseph or John Taylor, writing from Nauvoo in 1841, could praise John Lloyd Stephens' book on Central American ruins as "the most correct luminous & comprihensive . . . of all the histories that have been written pertaining to the antiquities of this country." "Indian," defined as "any native of the American continent," incorporated the imprecision already inherent in "continent" and "America." Even the phrase "our western tribes of Indians" does little to clear things up, given how broadly "west" and "western" were, and continue to be, used.44