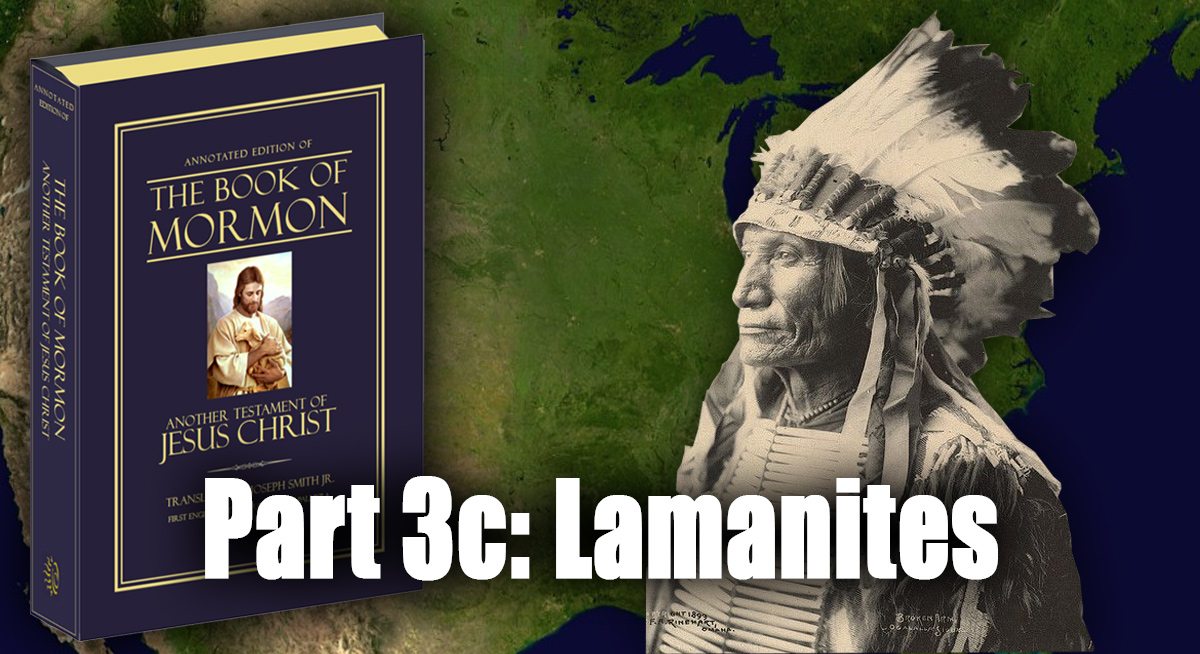 Part 1 ⎜Part 2⎜Part 3A⎜Part 3b⎜Part 3C⎜Part 3D ⎜Part 3E ⎜Part 4⎜Part 5⎜Part 6⎜Part 7⎜Part 8⎜Postscript
Misrepresentations of Historical Sources
Lamanites and American Indians
In addition to restricting the location of the Book of Mormon's "choice land" to the United States, the Annotated Edition of the Book of Mormon (AEBOM) attempts to erase or diminish the Lamanite identity of indigenous American populations outside of the "heartland." It accomplishes this by selectively quoting early Latter-day Saint leaders who interacted with local Native Americans living in the United States and identified them as Lamanites (117–118, 537, 545–547) and appealing to DNA studies which, the editors claim, links these groups to "lineages traced to both Egypt and the regions of northern Israel" (554).
The AEBOM's fallacious use of DNA science will be discussed in a subsequent post. Here it is worth pointing out that, once again, Hocking and Meldrum have created a false impression with their presentation. They want their readers to believe that Joseph Smith and other prophets have exclusively identified Native Americans living in the "heartland" of America as Lamanites, when in fact "most [early Latter-day Saints] considered the Native Americans broadly as heirs to Book of Mormon promises."1
Just how broadly have Latter-day Saint leaders extended Lamanite heritage to Native American peoples? A sampling of quotations demonstrates that, as with the span of the "land of promise" or the location of Zion, Lamanite identity has historically been bestowed on peoples across the range of North and South America.
As with the usage of "continent" and "country," early Latter-day Saint usage of terms such as "American Indian" and the like should be read in the linguistic context of nineteenth-century English. Noah Webster's 1828 dictionary broadly defined "Indian" as "a general name of any native of the Indies; as an East indian or West indian it is particularly applied to any native of the American continent."20 This is reflected clearly in contemporary non-Latter-day Saint usage. J. A. Van Heuvel, writing in 1844, freely spoke of the "Indians of Guyana," the "Indians of the Amazon," and the "Indians" of Brazil and Peru.21 The phenomenon of women fighting naked, he observed, "is not peculiar to the females of the Charibees [Caribs]. Instances of it are met, also, among other American Indians. 'Before the time of the Incas,' observes Herrera, 'the inhabitants of Peru went naked …. and the Indians say the war was carried on very resolutely by some women.'"22 Prescott one year earlier wrote of the "ancient cities [of] Mitla, Palenque, and Itzalana or Uxmal" in the "forests of Chiapa and Yucatan," and observed that "although it was not the Mexicans who built these cities, yet as they are probably the work of cognate races, [and] the present inquiry would be incomplete without some attempt to ascertain what light they can throw on the origin of the Indian, and consequently of the Aztec, civilisation."23
Hocking and Meldrum give no reason why Joseph Smith and the early Latter-day Saints should be exempted from the nineteenth century lexical norm for these and related terms. To insist that Joseph Smith and his contemporaries must have only meant the indigenous people of the "heartland" of the United States is little more than special pleading motivated by a nationalistic ideology. Indeed, the efforts of the AEBOM to paint early Latter-day Saints such as Parley P. Pratt, who participated in the "Lamanite Mission" of 1830-1831,24 as proto-Heartlanders is especially egregious, since Pratt explicitly identified Central and South American native peoples as Lamanites. In 1851 Pratt proclaimed,
Peruvians, Mexicans, Guatemalans, descendants of every tribe and tongue of this mysterious race, your history, your gospel, your destiny is revealed. . . . [God] purposes your restoration as a righteous branch of Israel. The Book of Mormon, the record of your fathers, will soon be published among you . . . so that to say the least you may have the gospel of your forefathers, and some knowledge of their history and prophecies.25
Not one year later he also declared, "Spanish Americans! A vast majority of you are the descendants of the ancient race of the Mexican, Peruvian, Chilean and other nations of original Americans. The origin of that entire race is now revealed . . . by the discovery and translation of their ancient records (the Book of Mormon). . . . And you, their descendants, are known in their ancient records as Lamanites, Nephites, etc."26 The AEBOM thus badly misrepresents what Pratt and other early Latter-day Saints thought about the identity of Native American peoples as Lamanites for wholly self-serving purposes. It is obvious from the historical record that early Latter-day Saints "believed that all American Indians were the descendants of Book of Mormon peoples, and that they shared a covenant heritage connecting them to ancient Israel," not merely those native groups cherry-picked by Hocking and Meldrum to suit their theory.27